Are you tired of serving the same boring chili? Transform this classic dish with beer for a unique twist.
You can get creative with different types of beer to find the perfect flavor for your next chili recipe.
Read on to learn when to add beer and discover the 5 best substitutes.
When Should You add Beer to Chili?
When it comes to cooking with beer, there are a few things you should consider before adding it to chili.
First and foremost, choosing the right beer is essential.
Beer can have a large range of flavors depending on the type and style, which in turn will influence the flavor of your chili.
Generally speaking, most southerners prefer lager or light-colored ale while savory Mexican-style chilis are better with a stout or dark ale.
The flavor from the beer will become more prominent when added early in the cooking process so bear that in mind when selecting your brew.
In addition to enhancing the overall flavor, beer adds moisture and tenderizes meat as it simmers over time.
The alcohol content of beer also helps give chili that zippy kick and boost of acidity needed for balance.
To get the most out of your chili recipe be sure to add it near the end—cooking too long can evaporate all the juice and leave behind a bitter taste in its place.
5 Best Beer Substitutes in Chili
However, selecting the right beer for your chili is not always easy and there are certain circumstances where it might make sense to skip using it altogether.
To help you get the most out of your chili experience, we have compiled this list of 5 best beer substitutes in chili recipes when you are unable to find or use a conventional beer.
1 – Red Wine
Red Wine can be an excellent substitute for beer when it comes to adding a little extra flavor to your chili.
It has a robust, robustness that gives the chili an added level of complexity, while still not overwhelming the flavor of other ingredients in the chili.
To use, simply add a ½ cup of red wine when your recipe calls for beer.
Red wine can be used as both a base layer and as an accompaniment depending on how bold you would like your chili's flavor to be.
Additionally, red wine can often bring out the sweetness of certain chili recipes, so it's best to experiment with different types and strengths until you find one that works best with your recipe.
2 – Chicken Broth
Chicken broth is one of the most common and budget-friendly substitutes for beer in chili.
It adds a nice hint of savory umami flavor and also contributes to the overall creaminess.
If you're making a white chicken chili, chicken broth can be used to enhance and deepen the flavors of your dish.
Look for low-sodium chicken broth for best results; this will give you more control over the salt levels in your chili.
To use, just substitute chicken broth for the beer called for in your recipe, adding enough to reach the desired consistency.
You may need to adjust other seasonings as well, depending on what else is in your spice mix.
3 – Tomato Juice
Tomato juice is a popular substitute for beer when making chili.
It has a mild acidic flavor and adds a rich and robust tomato taste to the chili.
The acidity from the tomato juice helps break down fatty cuts of meat, resulting in tender and flavorful bites.
Plus, tomato juice can easily be spiced with cumin, garlic powder, oregano, and other spices to give your chili more of an authentic flavor without adding too much heat.
When using tomato juice in place of beer for your next batch of chili, be sure to add it during the last hour of cooking or use it as the liquid ingredient when browning the beef or other proteins before adding them to the rest of the ingredients.
4 – Apple Cider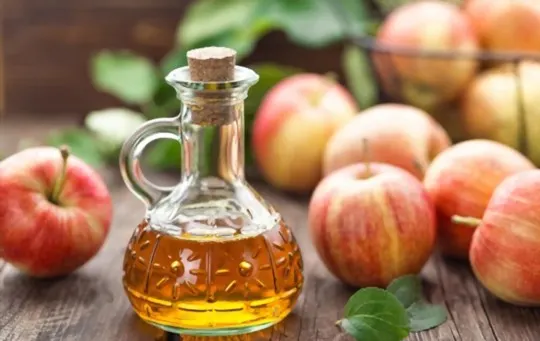 Apple cider is a great way to add sweetness and complexity to your chili, as it brings both acidity and a hint of sweetness.
Be sure to use fresh or unfiltered cider for best results, as the flavor will be more concentrated.
To get the most flavor out of your cider, you can reduce it before adding it to your chili.
Simply simmer 2-3 cups of cider over medium-low heat for about 15 minutes or until reduced by half.
This will help to create a thicker texture and boost the sweetness of your finished dish.
Add 1/2 cup or so of apple cider reduction per every 2 1/2 quarts of chili or just add an equal amount to taste at the end of cooking.
5 – Beef Stock
Beef stock can be a good substitute for beer in chili.
It adds depth and complexity without the sharpness or alcohol content of beer.
Depending on the other flavors you use, you may need to add a bit of salt but overall it will offer an incredible umami flavor.
To ensure the best results, look for stock that is reduced sodium so you can better control the taste and amount of salt used.
When substituting beef stock for beer, use about double the quantity as you would with beer; a 12oz bottle of beer will require about 2 cups of beef stock to achieve an equivalent flavor profile.
Conclusion
In conclusion, it's important to consider the subtle contrast that beer can bring to chili recipes.
The key is to select a type of beer that either matches or complements the other ingredients used in the chili.
Lighter, more neutral beers will add a bit of flavor while remaining relatively unnoticed; however, using bold-flavored beer may alter the flavor of chili significantly.
Additionally, if you don't wish to use beer, there are several terrific substitutes available including beef stock, coffee and even red wine.
Experiment until you find just the right addition for your favorite chili recipe.