Have you ever been perplexed about what sauce to pair with your classic Chicken Kiev dish? If so, then this article is for you.
From classic creamy hollandaise to vibrant tomato-based sauces, this article covers a wide range of interesting and flavorful options that will bring a whole new level of freshness to your favorite dish.
Along with helpful tips on how each particular sauce can amp up the savory flavors and even a few recipes from some esteemed chefs, there's something here for everyone to enjoy.
So don't let indecision over which sauce to choose keep you from enjoying an exquisite Chicken Kiev – simply check out all 12 dynamic and interesting options and get ready to enhance the flavor of your delicious homemade meal.
Why Consider Serving a Sauce with Chicken Kiev?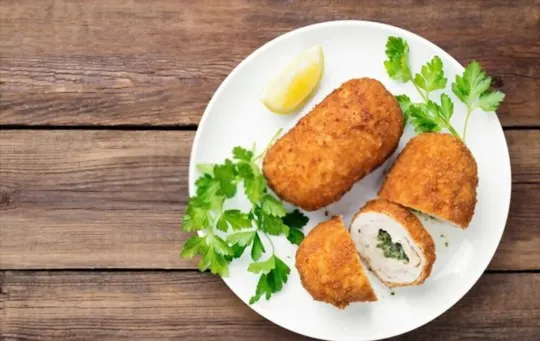 Serving a sauce with Chicken Kiev not only elevates the overall dining experience but also enhances the dish's flavors and presentation.
Chicken Kiev, a classic Eastern European dish, involves a breaded, deep-fried chicken breast stuffed with garlic and herb butter.
While the dish in itself is scrumptious, the addition of a complementary sauce can provide a balanced and harmonious flavor profile, resulting in an even more satisfying dining experience.
One reason one might consider incorporating a sauce when serving Chicken Kiev is to introduce a contrasting taste to offset the dish's inherent richness.
For instance, garnishing the dish with a tangy, citrus-based sauce may cut through the buttery taste and enable the palate to better appreciate the complex flavors of the succulent chicken, aromatic herbs, and robust garlic.
In addition, sauces can provide an opportunity for endless experimentation, as they can be tailored to cater to individual tastes and preferences, offering a unique spin to the conventionally indulgent dish.
Moreover, Chicken Kiev is typically served with a side of steamed vegetables, mashed potatoes, or other delicate accompaniments, which can be relatively bland when consumed alone.
A well-paired sauce has the potential to seamlessly marry the dish's primary and side components, creating a cohesive and delectable meal that is sure to leave a lasting impression on one's taste buds.
In terms of presentation, a visually enticing sauce can transform the appearance of the dish, giving it a more refined and sophisticated appeal.
A beautifully plated Chicken Kiev with a skillfully drizzled sauce, for instance, can elevate the dish's visual allure, making it hard to resist.
Lastly, adding a sauce to Chicken Kiev demonstrates an aptitude for culinary artistry and an appreciation for the complexity of flavors, as it showcases the ability to create, experiment, and improvise in the kitchen.
Thus, presenting Chicken Kiev with an unforgettable sauce not only satiates the palate but also feeds the culinary spirit of both the cook and the diner.
What Sauce Goes with Chicken Kiev? 12 Options
Chicken Kiev is a popular Russian dish that is made with butter, garlic and herbs – in many cases these ingredients are stuffed inside a chicken cutlet.
While this particular dish can be very tasty on its own, it can also be enhanced by different sauces.
The type of sauce you choose to serve with your chicken Kiev will depend on your own personal taste preference.
Here are twelve great sauces to serve with your chicken Kiev:
1. Bernaise Sauce
Bernaise sauce is a classic French sauce created by combining clarified butter and a reduction of white wine vinegar and fresh tarragon.
It's often referred to as hollandaise's more flavorful cousin and is an ideal choice for our Chicken Kiev.
To make bernaise sauce, start by gently heating equal parts of butter and white wine vinegar.
When the vinegar begins to reduce, add tarragon leaves to the mixture and stir until combined.
For a smoother texture, allow the mixture cool slightly before straining it into a small bowl or ramekin.
To serve, simply spoon warmed bernaise sauce over Chicken Kiev as desired.
2. Lemon Butter Sauce
Lemon butter sauce is a classic chicken accompaniment that packs an impressive flavor profile.
With few ingredients, you can quickly make a delicious, creamy sauce that pairs well with freshly cooked chicken.
To make this luscious sauce, you will need butter, white wine, lemon juice and a sprinkle of parsley or other herbs of your choice.
Start by heating butter in a pan over medium heat until melted.
Then add white wine and lemon juice and simmer for several minutes until reduced.
Finally, stir in the herbs just before serving to bring out their aromatic qualities.
This mouthwatering combination of tangy citrus and buttery richness adds the perfect touch to your chicken Kiev dish.
3. Cheese Sauce
Cheese sauce is a classic accompaniment to chicken Kiev, and it pairs wonderfully with the juicy breaded filling.
To make a delicious cheese sauce for your Kiev, melt butter in a skillet on low heat and whisk in equal parts flour and cold milk.
Cook the mixture for about 5 minutes until thickened, stirring constantly.
Add shredded cheddar cheese, a pinch of salt, pepper and nutmeg to taste.
Bring the cheese sauce to a simmer, then cook until thickened – about 5 minutes.
Serve your warm cheese sauce over your chicken Kiev for an indulgent meal.
4. Garlic Sauce
Garlic sauce is a delicious accompaniment to chicken Kiev that adds flavor and richness to the dish.
It's very easy to prepare; you simply combine garlic, oil, and butter in a small sauce pan.
Simmer the mixture until it thickens up, stirring often to prevent it from burning.
Once the sauce has reached your desired thickness and color, adjust the seasoning with herbs and spices as desired.
This creamy, flavorful garlic sauce goes well with many other types of poultry dishes as well, such as roasted chickens or fried chicken tenders.
It is also delicious when served over vegetables or used as a dip for chips.
5. Gravy
Gravy is a classic sauce that can be served with Chicken Kiev as a hearty and savory accompaniment.
Making gravy from scratch is fairly easy but time-consuming, with most recipes requiring you to make a roux (a mixture of butter and flour) for the base.
Once that is done, the gravy can be flavoured with onions and herbs and simmered until thick.
To save time, you can also buy prepared gravy from the store.
This can be heated up in a skillet until hot, then poured over your Chicken Kiev before serving.
6. Hollandaise Sauce
Hollandaise sauce is a classic accompaniment for chicken Kiev.
The rich, buttery sauce made with egg yolks, lemon juice and butter adds a luxurious texture and flavor to the chicken.
Its origins may trace back to the 16th century and it is often featured in French cooking.
The key to successful hollandaise is making sure all of the ingredients are properly balanced.
For example, if too much lemon juice is added it can cause the sauce to separate or become thin.
Once all of the ingredients have been combined, the sauce should be served over hot dishes because prolonged heating will cause it to curdle.
7. Horseradish Sauce
Horseradish sauce is an easy-to-make condiment that adds an intense kick to any dish.
This white sauce can be used as a dip and will pair perfectly with chicken kiev.
To make horseradish sauce, begin by grating fresh horseradish root on a box grater.
Add some mayonnaise, sour cream, a splash of white wine vinegar or lemon juice, fresh chopped herbs and seasonings of your choice.
The resulting mix should be thick and creamy for the perfect accompaniment to your meal.
8. Mango Chutney
Mango chutney is a sweet and savory accompaniment to chicken Kiev.
It pairs wonderfully with the butter-stuffed chicken, bringing the sweetness of mango with a slight kick of pungent flavor.
This chutney effortlessly adds flavor and enhances the flavors of Kiev while adding a refreshing touch of sweetness that is not cloying.
To prepare, combine chopped mangoes, garlic, cilantro, ginger, lemon juice and jalapeño peppers in a blender or food processor and blend until smooth.
Add salt to taste and then serve alongside your kiev for an unforgettable dining experience.
9. Mayonnaise
Mayonnaise is a rich and creamy condiment that is made with oil, egg yolks, lemon juice, mustard, and spices.
It can be used as a dip for vegetables or as an ingredient in many recipes like tuna salad and coleslaw.
It's also a popular accompaniment to seafood and poultry dishes like Chicken Kiev.
Mayonnaise adds flavor, richness and moisture to Chicken Kiev without overpowering it.
Its creamy consistency pairs well with the buttery carved-out chicken breast that is filled with garlic-herb butter and herbs.
Use store-bought mayonnaise or make your own using the traditional recipe with egg yolks, oil, lemon juice and seasonings.
You can also experiment with variations by adding different herbs like chives or dill for additional flavor.
To make your own mayonnaise: In a food processor or blender, combine two large egg yolks at room temperature with two tablespoons of fresh lemon juice or white vinegar, one teaspoon Dijon mustard, one teaspoon of honey (or sugar), pinch of salt,pinch of ground white pepper (optional), and one cup of olive oil (or vegetable oil).
Cover and process until smooth; the consistency should be similar to a thick cream sauce.
Add additional seasonings if desired.
Serve your homemade mayonnaise alongside your Chicken Kiev for an extra punch of flavor.
10. Mint Sauce
Mint Sauce is a delicious, light accompaniment to Chicken Kiev.
The mint flavored sauce goes well with the creamy, buttery flavors of the dish.
It is easy to make and can be prepared in large quantities for use later for other meals.
To make Mint Sauce, you need fresh mint leaves, white wine vinegar or apple cider vinegar, sugar and water.
The leaves are first chopped fine, then steeped in heated vinegar for about 10 minutes before straining out the liquid and adding sugar to sweeten it and boiling some water to add as needed until a slightly thick consistency is achieved.
Serve this lovely sauce over your Chicken Kiev for an added burst of flavor.
11. Mushroom Sauce
Mushroom sauce is a simple and delicious addition to a Chicken Kiev dinner.
You can create an easy mushroom sauce with sautéed mushrooms, garlic and fresh herbs in a creamy white wine or chicken broth base.
You can also use a store-bought cream of mushroom soup and season it to your liking.
For a more complex flavor, you can add some cold butter cubes for added richness.
This type of sauce pairs particularly well with the rich and buttery filling in the Chicken Kiev.
12. Chimichurri Sauce
Chimichurri is a bright, herby sauce focused on parsley, garlic, oregano, olive oil and red wine vinegar.
To add a unique flavor to your Chicken Kiev dish, top it with this sauce recipe.
Combine three tablespoons of finely chopped flat-leaf parsley, two teaspoons of minced garlic, one teaspoon each of dried oregano and fresh lemon juice in a medium bowl.
Gradually whisk in four tablespoons of extra-virgin olive oil until emulsified.
Then stir in one tablespoon of red wine vinegar, salt and pepper to taste.
Serve this no-cook sauce as a condiment with the Chicken Kiev.
Conclusion
The perfect sauce can make or break your chicken Kiev dish.
After testing out many different sauces, here are the top 12 best sauces to pair with this delicious and elegant meal.
As you can see there are many wonderful sauces you can choose from when creating your own unique version of chicken Kiev.
Experimenting is key as different households have distinctive tastes so what works for one person may not be preferred by another.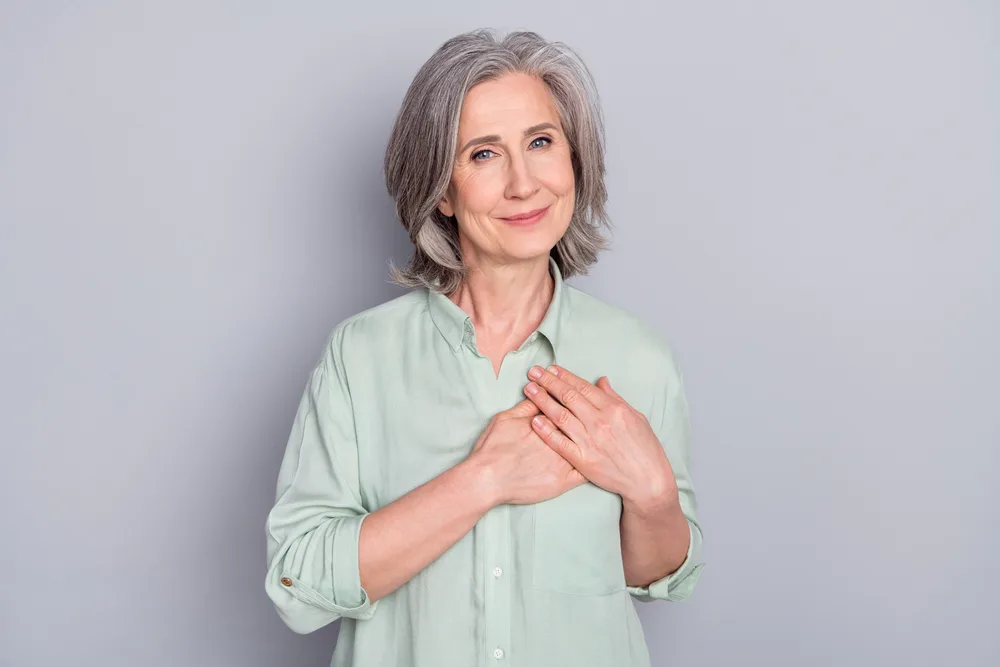 Carrie is a food writer and editor with more than 15 years of experience. She has worked for some of the biggest names in the food industry, including Bon Appétit, Food & Wine, and Martha Stewart Living.
As the Editor in Chief of IntroChicago.com, Carrie oversees all of the content on the site. She also manages the team of contributing writers and editors, who help to create delicious recipes, helpful tips, and informative articles that you'll find on the site.
A native of the Chicago area, Carrie is passionate about all things food. She loves trying new restaurants and experimenting with new recipes in her kitchen. She's also a graduate of the Culinary Institute of America, so she knows a thing or two about food!